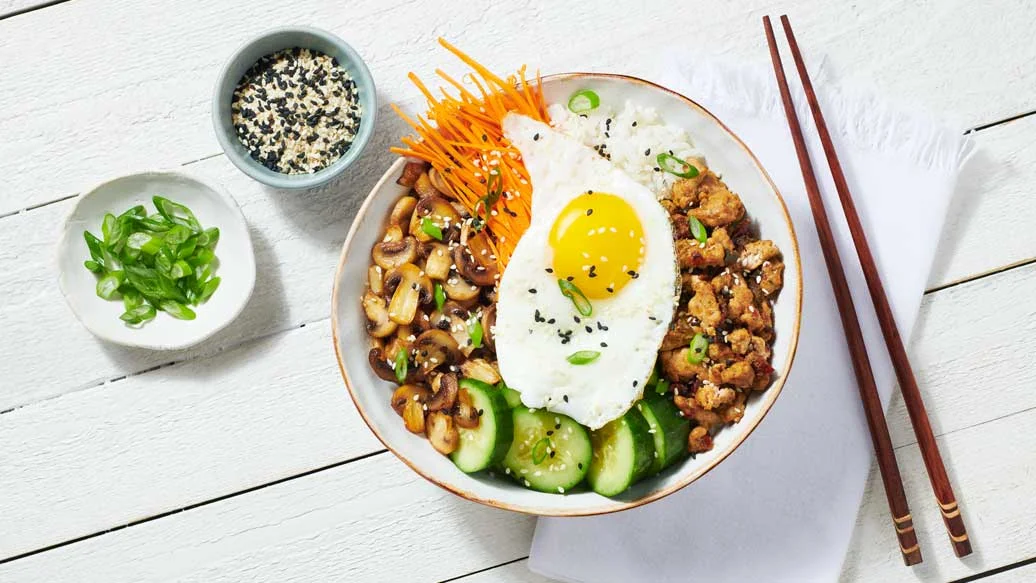 20 min
4 servings
$3.24/serving
Inspired by the Korean dish "Bibimbap," this bowl is quick and easy to make. Choose your favourite protein and veggies, serve over rice, and don't forget to put a fried egg on top! Health tip: Use ground turkey to keep this dish low in fat.
Perfectly Balance Your Plate
This is a perfectly balanced plate.
Ingredients
1 cup uncooked white rice
2 1⁄4 cups water, divided
2 tbsp oil, divided
4 cups sliced mushrooms
2 tbsp low-sodium soy sauce
1⁄2 lb (225 g) ground turkey
4 eggs
1⁄2 English cucumber
1 cup matchstick carrots
Toppings (optional): sesame seeds, sliced green onion, hot sauce
Preparation
In Multipurpose Steamer, combine rice and 2 cups water. Top with tray; microwave uncovered on high for about 16–18 min, or until tender.
Meanwhile, in a bowl, combine seasoning and remaining 1⁄4 cup water. Set aside.
In Wok, heat 1⁄2 tbsp oil over medium-high heat. Add mushrooms and soy sauce. Stir-fry 3–4 min, or until softened. Remove from pan and set aside.
In same (unwashed) wok, heat 1⁄2 tbsp oil. Add turkey and stir-fry 2 min. Add reserved seasoning mixture, stirring to combine. Cover and simmer on low heat until turkey is cooked through, 1 min. Remove from wok and set aside.
Using a damp cloth or paper towel, gently wipe down wok. In two batches, heat remaining oil over medium heat and gently crack in two eggs per batch. Cover and cook until egg whites are set, about 2–3 min. Repeat with remaining two eggs for second batch.
Dice cucumber.
Divide rice, mushrooms, turkey, cucumber, and carrots between four bowls. Top each bowl with one egg. Add toppings, if desired.
Nutritional Information
Per serving: Calories 470, Fat 18 g (Saturated 3.5 g, Trans 0.1 g), Cholesterol 285 mg, Sodium 430 mg, Carbohydrate 51 g (Fiber 4 g, Sugars 5 g), Protein 27 g.
Tips
As the cooked mushrooms sit, they release liquid. For extra umami flavour, add the liquid to the turkey while it's cooking.
Using leftover rice? Give it a quick stir-fry before plating; the extra, crispy bits are delicious!