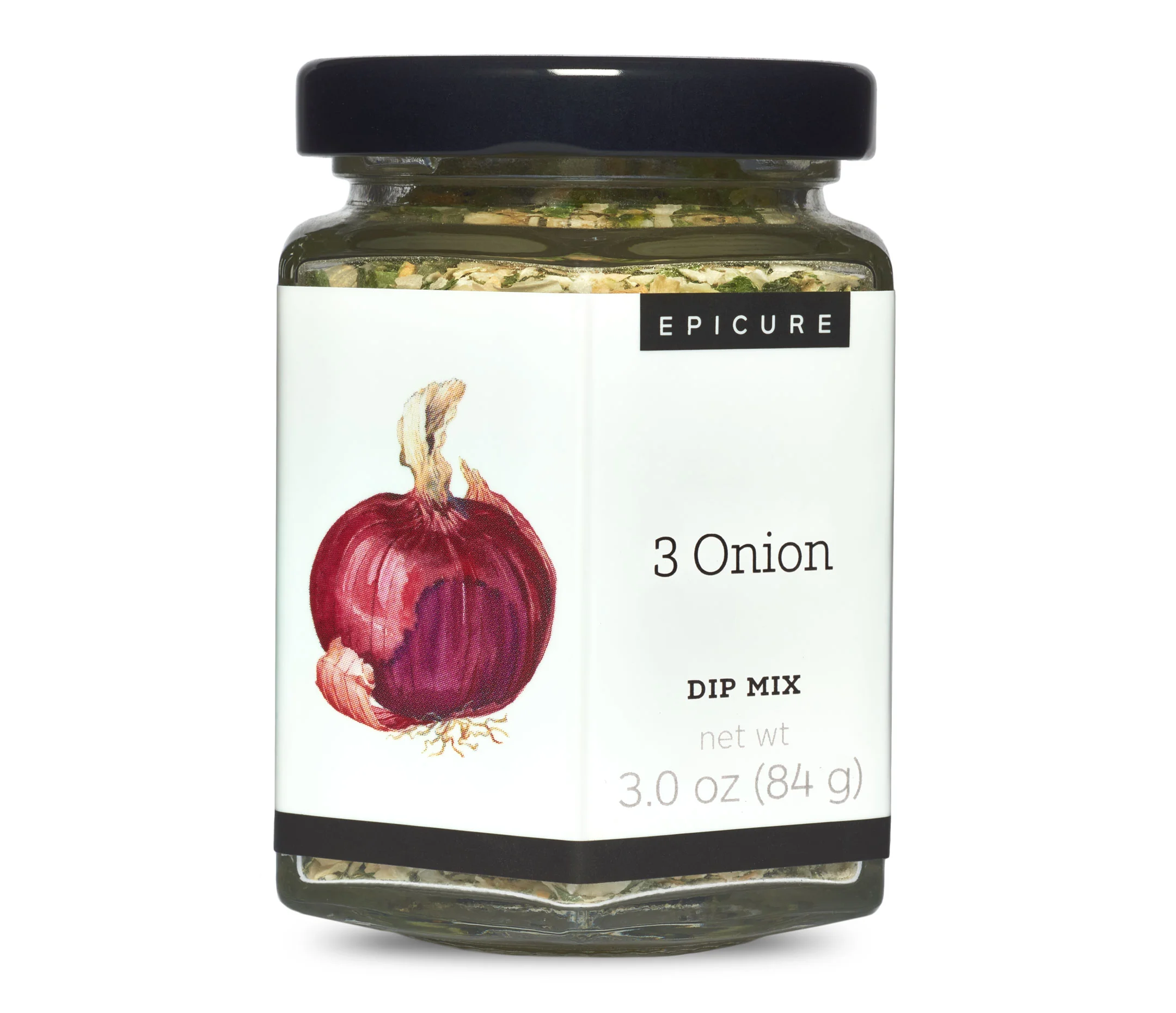 These onions won't make you cry—they're pure happiness in a jar! Save time (and tears) on chopping and use this blend anytime you're looking for the robust flavour of onions, chives, and scallions. Take it way beyond the dip bowl and use 3 Onion as a sauce or seasoning for eggs, veggies, burgers, tacos, and more! 
3 oz (84 g)
An all-time, best-seller, 3 Onion Dip Mix is all about versatility. Three tablespoons are the equivalent of one small onion. 
Make the best kid-friendly 3 Onion Dip: 
Spread it on toasted flatbreads – top with chopped tomatoes for easy appy 
Slather in on baked potatoes or swirl into mashed potatoes. 
Spoon over nachos or tacos instead of sour cream 
Use it as a seasoning: 
Add to scrambled eggs before cooking. 
Try it in egg, salmon, and tuna salad. 
Use as a burger or meatloaf mix. 
Stir into Mac & Cheese. 
Make a cream cheese spread: Mix 1 Tbsp (15 ml) dip mix with 1 C (250 ml) cream cheese. 
Ingredients 
Chives, onion, Parsley, Scallions.  
Epicure is dedicated to sharing delicious meal solutions that use only real, whole ingredients you can trust, while never ever compromising on taste.
Epicure products are:
100% gluten free
Made in a nut-free facility (except coconut)
Free from corn syrup & hydrogenated fat
Free from artificial colors, sweeteners & preservatives
Sugar & sodium conscious
Made from ethically sourced ingredients
85% non-GMO Project verified
Learn more about our Good Food Mission and the Never-Ever List