Spaghetti, Spinach & Meatballs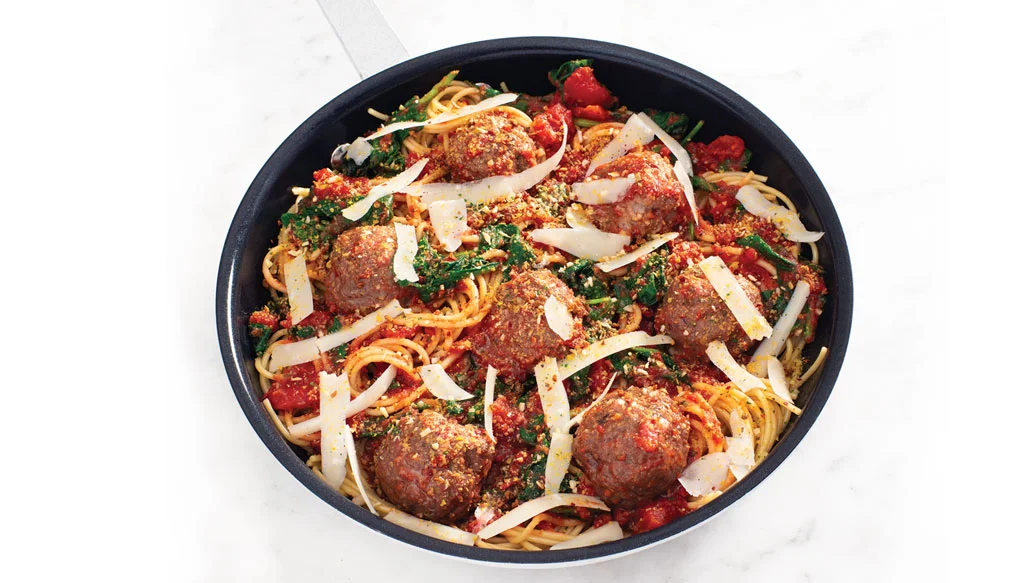 30 min
4 servings
$3.40/serving
A home-style, Italian classic with mass appeal flavours of herb and garlic to round out this comfort food—no chopping or dicing required! Spinach is rich in healthy vitamins and minerals, including Vitamins C and E, iron, potassium and magnesium! Check out the recipe tip below to see how you can cook meatballs in a fraction of the time in an Epicure Steamer!
Perfectly Balance Your Plate
This is a perfectly balanced plate.
Ingredients
Meatballs:
3⁄4 lb (340 g) lean ground beef, chicken, or pork
2 tbsp grated Parmesan cheese, optional
Pasta:
3⁄4 lb (340 g) dry spaghetti noodles
8 cups baby spinach
Parmesan cheese curls, optional
Preparation
For meatballs, preheat oven to 450° F. Line a Sheet Pan with a Sheet Pan Liner.
In bowl, combine meat with dip mix. To prevent sticking, moisten hands with water and form mixture into balls. Use about 2 tbsp mixture per meatball.
Place on pan; bake for 10 min. Reduce heat to 350° F and continue baking until firm, 8–10 more min.
Meanwhile, cook pasta according to package directions. Heat sauce in a large frying pan. Add drained pasta and half the spinach. Stir to coat noodles and wilt spinach, 1–2 min.
Spoon into bowls; top with meatballs, remaining spinach and cheese, if desired.
Nutritional Information
Per serving: Calories 510, Fat 9 g (Saturated 3 g, Trans 0.3 g), Cholesterol 45 mg, Sodium 450 mg, Carbohydrate 78 g (Fiber 8 g, Sugars 7 g), Protein 29 g.
Tips
Make skinny Parmesan curls using the 4-in-1 Mandoline or a Y Peeler.
Slash cooking time with the Round or Multipurpose Steamer! After rolling, arrange meatballs in the steamer, cover, and microwave on high for 4 minutes, or until cooked. Meatballs prepared in the microwave are best eaten the same day.