Whole-Grain Rosemary Crackers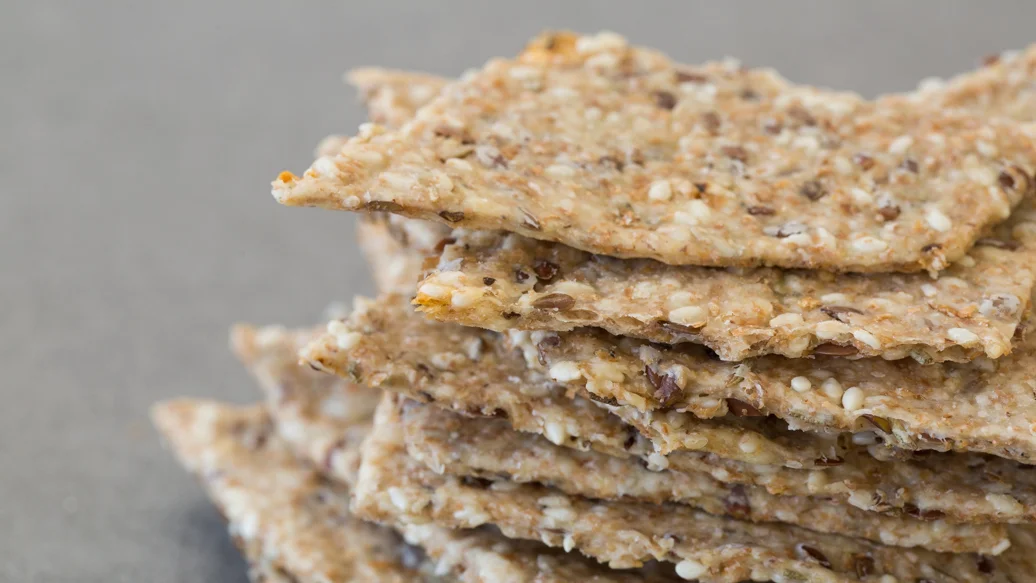 30 min
30–40 crackers
$0.12/serving
Try substituting sesame, sunflower, or chia seeds in place of the flax seeds…or a combo of all three!
Ingredients
1 1⁄4 cups whole-wheat flour
1⁄4 cup flax seeds
1⁄4 cup roasted sesame or sunflower seeds
1 tsp Sea Salt
1 tsp Black Pepper
1⁄3 cup olive oil
1⁄2 cup warm water
Preparation
Preheat oven to 375° F (190° C).
In a medium bowl, combine the dry ingredients.
Add the oil and water, blending until just combined.
Lightly dust counter with flour. Working in batches, roll dough out as thin as you can.
Using a pizza cutter or a knife, cut the dough into cracker-sized pieces.
Place on an sheet pan and bake for 15–20 minutes, until golden brown. Crackers will crisp slightly as they cool and can also be re-crisped in the oven.
Nutritional Information
Per serving (2 crackers): Calories 80, Fat 5 g (Saturated 0.5 g, Trans 0 g), Cholesterol 0 mg, Sodium 110 mg, Carbohydrate 7 g (Fiber 2 g, Sugars 0 g), Protein 2 g.