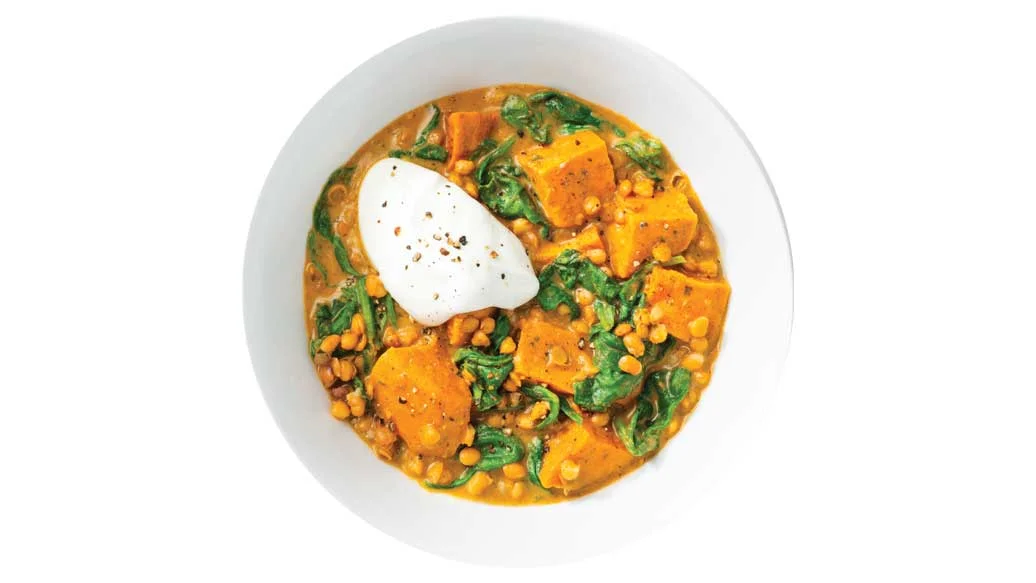 20 min
4 servings
$2.19/serving
Perfectly Balance Your Plate
Serve with 1 cup sliced veggies, your choice and 2 tbsp Epicure dip.
Ingredients
2 sweet potatoes or yams
1 pkg Thai Red Curry Seasoning
1 can (14 oz/398 ml) coconut milk, preferably light
1 can (19 oz/540 ml) lentils, drained and rinsed
4 cups baby spinach
1 1⁄2 cups 2% Greek yogurt
Preparation
Peel potatoes; coarsely chop into large pieces. Place in Multipurpose Steamer. Microwave on high, covered, 8-10 min.
Meanwhile, in wok, combine seasoning and coconut milk. Bring to a boil over high heat; stir in lentils. Cover; reduce heat to medium and simmer 6 min.
Stir in potatoes, then gradually stir in spinach, small handfuls at a time. Cover and simmer just until wilted, 1–2 min.
Spoon curry into bowls and top with yogurt.
Nutritional Information
Per serving: Calories 340, Fat 9 g (Saturated 7 g, Trans 0 g), Cholesterol 47 mg, Sodium 630 mg, Carbohydrate 47 g (Fiber 15 g, Sugars 12 g), Protein 19 g.
Tips
FYI Sweet potatoes have tapered ends and smooth skin; flesh ranges from light beige to bright orange or slightly purple. Yams are more cylindrical in shape with rough, fuzzy skin; flesh ranges from white to dark purple.