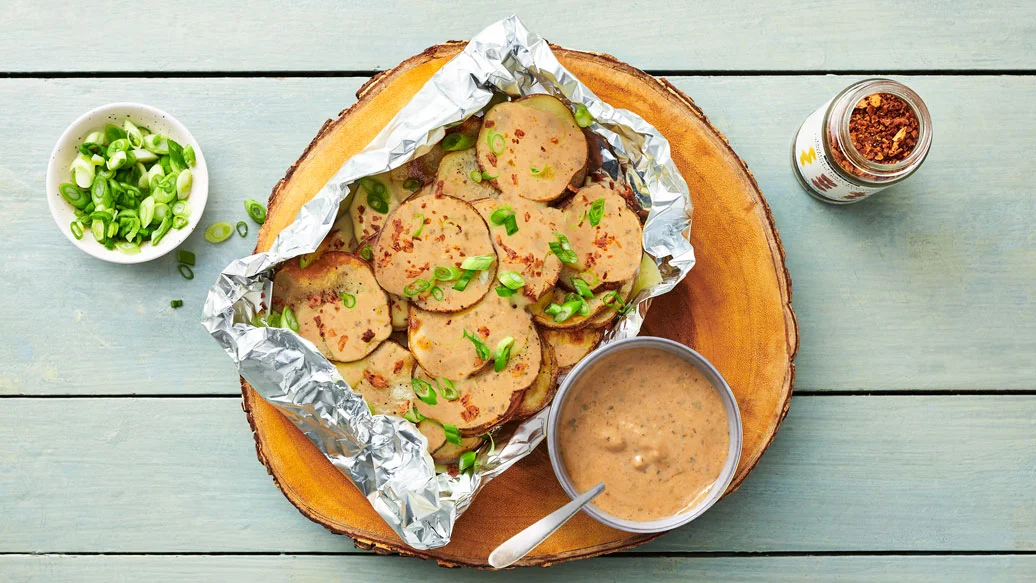 20 min
4 servings
$0.81/serving
I've never met a spud I didn't like, and today is certainly no exception. Choose your own potato adventure with gingery, garlicky Teppanyaki, or creamy and tangy Hollandaise. These potato packets are the perfect side dish for backyard barbeques, camping trips, and summer celebrations.
Perfectly Balance Your Plate
Serve with 4 oz (113 g) lean protein and 1 cup sliced veggies. 
Ingredients
2 medium russet or Yukon Gold potatoes, about 1 lb (450 g)
4 tsp olive oil or melted, unsalted butter
1 tbsp Montreal Steak Rub or Burger Seasoning
Sea Salt, to taste
Black Pepper, to taste
4 tsp water
Toppings (optional): sliced green onion, Better Than Bacon Topper
Preparation
Preheat grill to medium-high heat.   
Cut potatoes into 1⁄8" slices and place in a large bowl. Add oil, rub, salt, and pepper. Toss to combine.
Lay out four 12" pieces of aluminum foil in front of you. Divide potato slices between the four pieces of foil. (It's okay if the potatoes overlap slightly.) Add 1 tsp water on top of each potato-lined piece of foil.  
Place a 6" piece of aluminum foil over each potato-lined piece of foil. Roll up edges of bottom of each piece of potato-lined foil and fold over the top of each 6" piece of foil to seal in the potatoes and form a packet.
Place packets on grill. Grill, with lid closed, 15 min, or until tender. Using tongs, carefully remove packets from grill.
Open packets carefully; serve with sauce drizzled on top. Add additional toppings, if desired.
Nutritional Information
Per serving (1 potato packet): Calories 290, Fat 12 g (Saturated 5 g, Trans 0.2 g), Cholesterol 20 mg, Sodium 90 mg, Carbohydrate 40 g (Fiber 4 g, Sugars 3 g), Protein 5 g.
Tips
Making these Grilled Potato Packets by the campfire? Try cooking the packets in the hot embers coals until tender.
Going camping? Assemble the potato packets before your trip and place them on the grill when you're ready to cook! 
To slash grilling time by 10–12 minutes, microwave sliced potatoes in Multipurpose Steamer on high, covered, for 5 min to soften before tossing with oil and rub and wrapping in foil to grill.