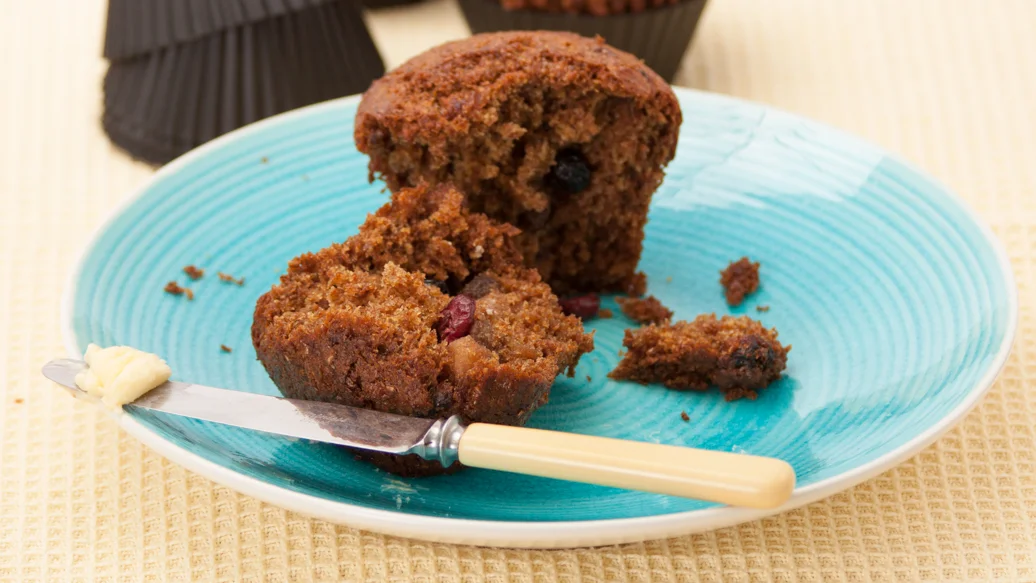 25 - 28 min
12 muffins
$0.23/serving
Ingredients
1 cup all-purpose flour
1 1⁄2 tsp baking powder
1 tsp baking soda
1 tsp salt
1⁄4 cup butter or shortening
1⁄2 cup brown sugar
1⁄2 cup molasses
2 eggs
1 cup skim milk
1 1⁄2 cups bran
Preparation
Preheat oven to 400° F (205° C).
Place a lightly oiled Muffin Maker on a Sheet Pan.
Whisk first 4 ingredients and set aside.
Cream butter or shortening and sugar in a separate bowl. Stir in molasses, eggs, milk and bran.
Using a spoon, combine dry and wet ingredients in swift strokes. Spoon into prepared Muffin Maker. Bake 15–18 minutes.
Nutritional Information
Per serving: Calories 180, Fat 5 g (Saturated 2 g, Trans 0 g), Cholesterol 40 mg, Sodium 210 mg, Carbohydrate 33 g (Fiber 3 g, Sugars 18 g), Protein 4 g.
Tips
Make ahead and freeze for a healthy breakfast or snack in just seconds.