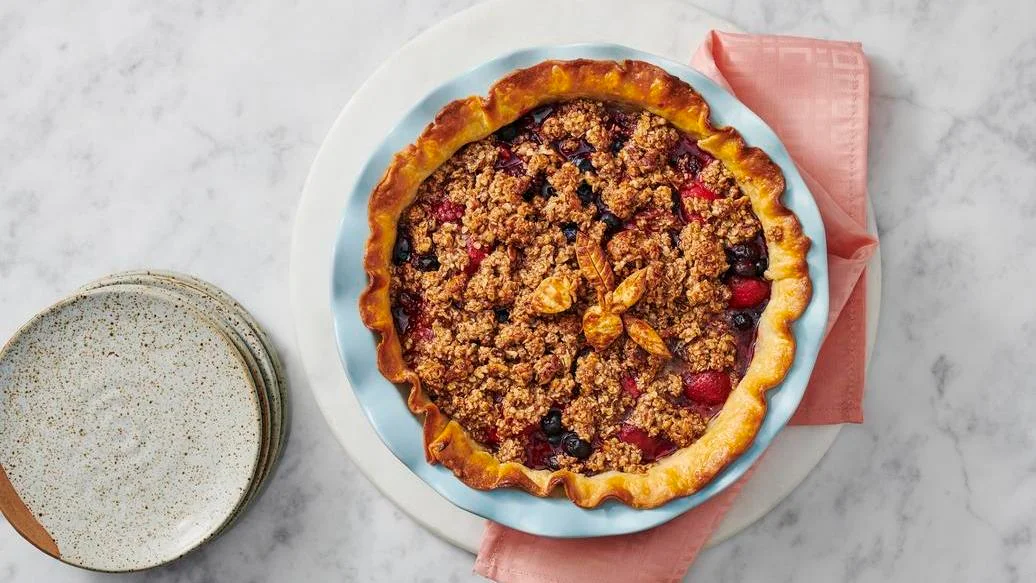 90 min
8" pie for 8 servings
To streamline the recipe, prep the dough and streusel the night before. Both require a food processor, so it's easy to knock them off together!
Ingredients
Streusel
1⁄2 cup gluten-free multipurpose flour blend
1⁄4 cup packed brown sugar
1⁄4 cup cold butter, unsalted; cubed
Pie Filling
1⁄2 cup sour cream or plain 2% Greek yogurt
1 egg
1⁄3 cup granulated sugar
2 tbsp gluten-free multipurpose flour blend
1 tsp vanilla extract
Pinch of salt (optional)
4 cups frozen berries
Preparation
Preheat oven to 425° F. Roll dough into a large circle and fit into an 8" pie plate; crimp or flute edge. Place on Sheet Pan. Refrigerate while prepping remaining ingredients.
To make streusel, place flour, sugar, and cinnamon in a food processor; pulse to mix. Add cold cubed butter and pulse until mixture resembles coarse crumbs.
For filling, in a bowl, whisk together sour cream, egg, sugar, flour, vanilla and salt until smooth; stir in berries.
Scrape into pie shell. Bake on bottom rack of preheated oven for 15 min. Reduce oven to 375°F. Sprinkle streusel overtop pie; continue to bake until filling is set but still jiggly, about 35—40 min. Loosely tent crust with tin foil if pastry starts to brown too quickly.
Nutritional Information
Per serving: Calories 0, Fat 0 g (Saturated 0 g, Trans 0 g), Cholesterol 0 mg, Sodium 0 mg, Carbohydrate 0 g (Fiber 0 g, Sugars 0 g), Protein 0 g.
Tips
Add 1 tsp grated lemon peel to pie filling mixture.
Make this recipe even easier and replace Easy As Pie Dough with a frozen 9" pie shell.