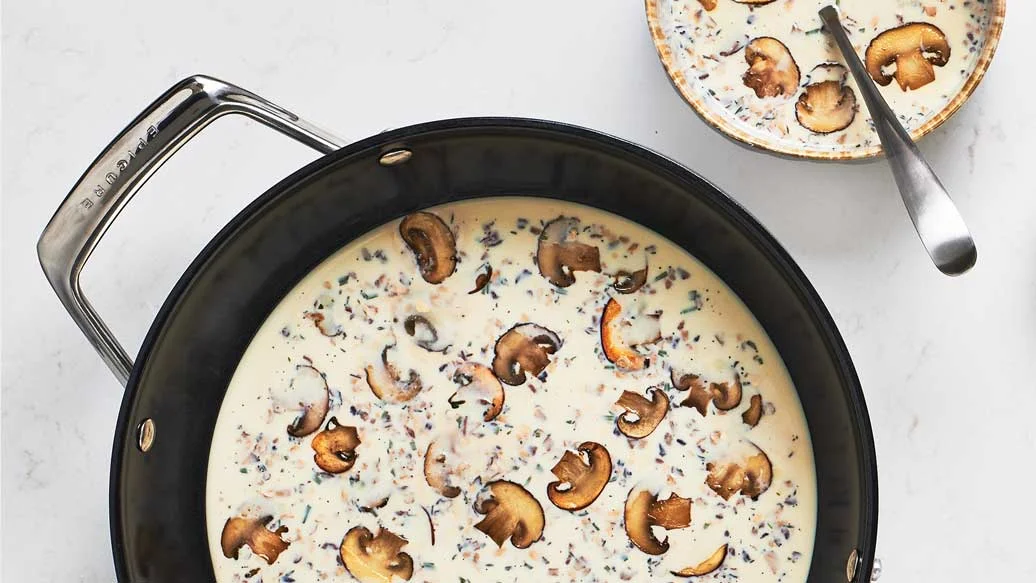 20 min
4 cups for 4 servings
$1.93/serving
Perfectly Balance Your Plate
Serve with an open-faced or half sandwich made with 1 slice whole-grain bread, 1⁄2 tbsp mayo, 1⁄2 cup lean protein (chicken or canned salmon), and 1⁄2 cup leafy greens.
Ingredients
3 1⁄2 cups milk, your choice
2 tbsp butter or olive oil
3 cups sliced mushrooms, such as cremini
Toppings (optional): chopped parsley
Preparation
In a large bowl, whisk together seasoning with milk; set aside.
In Wok, heat butter over medium-high heat. Add mushrooms; sauté until lightly browned, about 5 min.
Add reserved seasoning mixture; bring to a boil, stirring often. Simmer until thickened, 1–2 min.
Nutritional Information
Per serving (about 1 cup): Calories 210, Fat 10 g (Saturated 6 g, Trans 0.3 g), Cholesterol 30 mg, Sodium 340 mg, Carbohydrate 19 g (Fiber 1 g, Sugars 1 g), Protein 10 g.
Tips
Save prep time and buy a package of pre-sliced mushrooms. Or mix and match—choose your favourite kinds for a medley of flavour. You'll need a generous 1⁄2 lb (225 g) whole mushrooms.