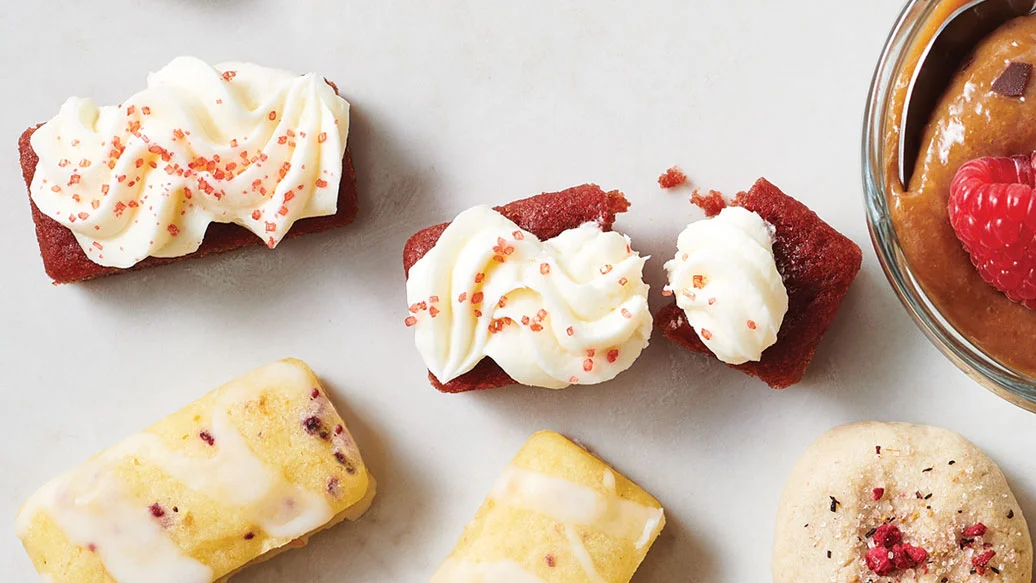 35 min
30 servings
$0.20/serving
Ingredients
3⁄4 cup milk, your choice
2 tsp apple cider vinegar
2 eggs
1⁄3 cup oil
2 tsp vanilla extract
Toppings (optional): cream cheese icing (see Tip below)
Preparation
Preheat oven to 350° F. Place Perfect Petites on Sheet Pan.
In a large bowl, whisk milk with vinegar; let sit 1 min. Whisk in eggs, cupcake mix, oil, and vanilla.
Lightly oil Perfect Petites. Divide batter evenly between petites.
Bake 25–28 min, or until a toothpick comes out clean. Cool before removing to cooling rack. Spread on icing, if desired.
Nutritional Information
Per serving (1 petite, no icing): Calories 60, Fat 3 g (Saturated 0.4 g, Trans 0 g), Cholesterol 15 mg, Sodium 65 mg, Carbohydrate 7 g (Fiber 0 g, Sugars 4 g), Protein 1 g.
Tips
To make cream cheese icing, use an electric mixer to beat 1⁄2 cup light cream cheese with 2 tbsp butter until smooth. Beat in 1⁄4 tsp vanilla and 1⁄2 cup icing sugar, one spoonful at a time, until smooth. Spread icing on petites.