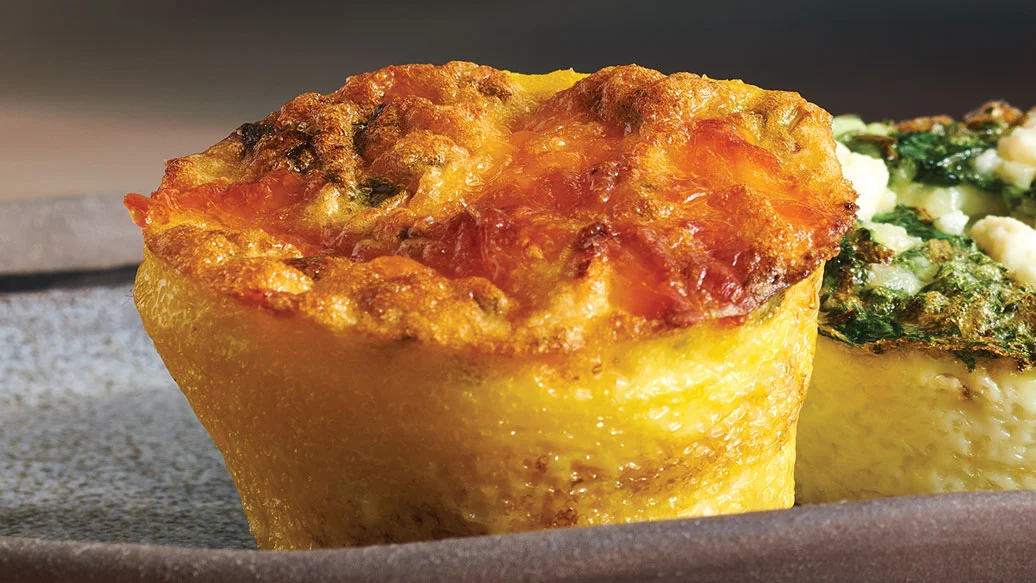 20 min
6 servings
$0.88/serving
Perfectly Balance Your Plate
Serve with 2 slices of whole grain toast, with unsalted butter, and 1 cup chopped veggies.
Ingredients
10 eggs
1⁄2 cup grated cheddar cheese
Fillings (optional): ham and pineapple, or chopped sundried tomatoes and spinach. Reimagine your favourite pizza toppings as fillings!
Preparation
Preheat oven to 400° F. Using Basting Brush, lightly oil Muffin Maker and place on Sheet Pan.
In a bowl, whisk eggs and seasoning. Pour into muffin cavities, filling each about 3⁄4 full. Sprinkle with cheese and add your chosen fillings, if desired.  
Bake 15 min or until eggs are set. Let cool slightly before removing from cavities.
If making ahead, refrigerate up to 5 days or freeze up to 1 month.
Nutritional Information
Per serving (2 egg bites): Calories 170, Fat 12 g (Saturated 4.5 g, Trans 0.1 g), Cholesterol 320 mg, Sodium 170 mg, Carbohydrate 2 g (Fiber 0 g, Sugars 1 g), Protein 13 g.
Tips
If storing in the freezer, reheat by first defrosting in the fridge overnight and then microwaving for 20 sec on high until warmed through. Or, place in a toaster oven and bake at 350° F for 10 min.