Mighty Mini Berry Protein Pancakes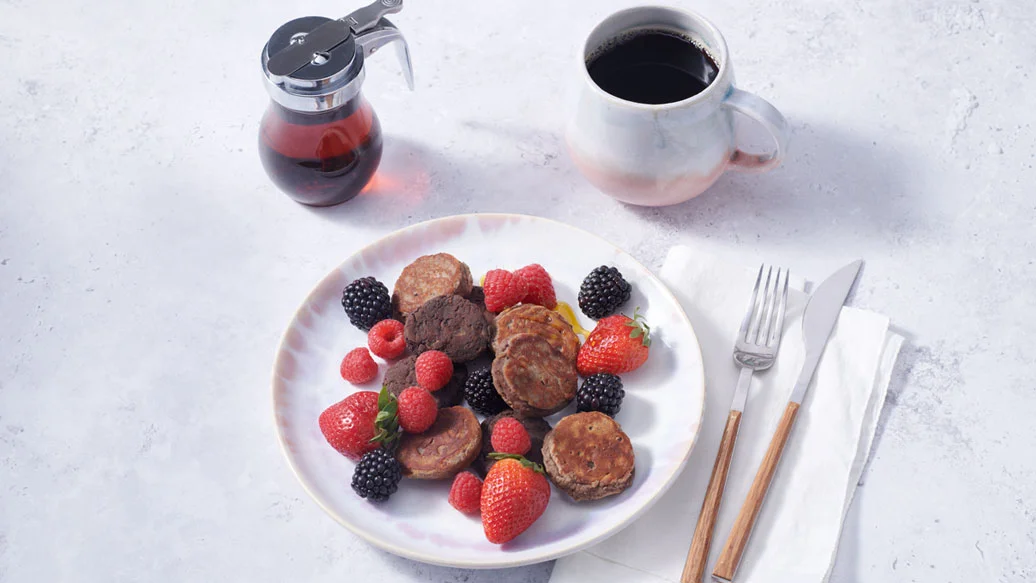 20 min
2 servings
$4.56/serving
Power up with 25 g of plant-based protein. Make these pancakes for a post-workout breakie to help you recover and keep you fuelled for that great day ahead! Because the batter is made with protein powder (with no added flour), it's best to make mini cakes—they hold together better and are much easier to flip! Also, the batter doesn't have added sugar; all the sweetness comes from fruit. And, just like a great workout, for best results, cook low and slow to avoid burning.
Perfectly Balance Your Plate
This is a Perfectly Balanced Plate.
Ingredients
4 large fresh or frozen strawberries
1⁄2 large banana
1 egg
2 tbsp unsweetened almond, oat, or soy milk
1⁄4 tsp vanilla extract
1 tsp oil, divided
2 tbsp maple syrup
2 cups berries or 1 cup unsweetened apple sauce
Preparation
Chop strawberries and place in a bowl. Slice banana into same bowl; using a fork or the Ground Meat Separator, mash fruit. 
Add egg, milk and vanilla; stir to combine. Then, stir in protein blend and spice. Batter will be thick.
Heat 1⁄2 tsp oil in a large, non-stick fry pan over medium heat. When warm, drop in batter, 1 tbsp at a time, to make 6 mini pancakes.
Reduce heat to medium-low. Cook until edges are firm, 3–5 min. Flip and cook until bottoms are deep golden, about 3–5 min. Wipe pan clean; repeat with remaining oil and batter.
Serve with maple syrup, and berries or applesauce.
Nutritional Information
Per serving: Calories 330, Fat 7 g (Saturated 1.5 g, Trans 0 g), Cholesterol 95 mg, Sodium 340 mg, Carbohydrate 44 g (Fiber 6 g, Sugars 27 g), Protein 25 g.
Tips
Ensure oil in pan is warm before adding pancake batter. For best results, use ripe, juicy berries. Frozen ones work well, too!