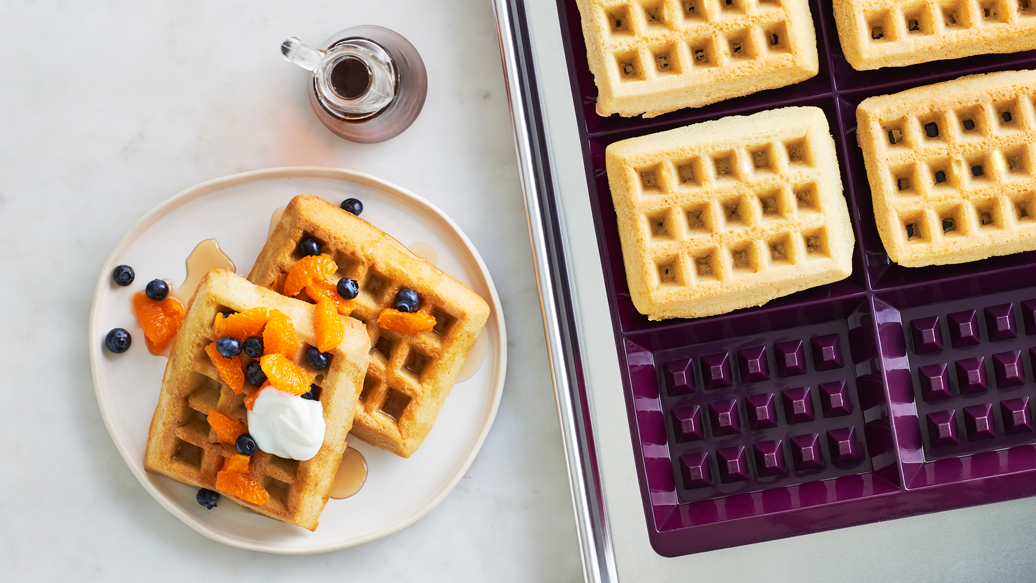 20 min
6 waffles
$1.55/serving
Perfectly Balance Your Plate
 Serve with 1 cup mixed berries and 1⁄2 cup 2% plain Greek yogurt. 
Ingredients
1 cup Easy Peasy Bagel, Pancake & Waffle Mix
1 egg
3⁄4 cup milk, your choice
1 tbsp oil, + extra for brushing
Toppings (optional): Cocoa Crunch or Tutti Fruity Whole Food Topper, chopped fruit, hemp hearts 
Preparation
Preheat oven to 425° F.
Place Waffle Mold on Sheet Pan and generously oil. 
In a bowl, whisk together mix, egg, milk, and 1 tbsp oil.
Divide batter evenly between molds. Bake for 12—15 min or until tops are golden. 
When cool to the touch, flip pan and gently remove waffles. 
Nutritional Information
Per serving (2 waffles): Calories 260, Fat 8 g (Saturated 1.5 g, Trans 0 g), Cholesterol 85 mg, Sodium 440 mg, Carbohydrate 39 g (Fiber 3 g, Sugars 4 g), Protein 7 g.
Tips
Make pancakes instead of waffles! Use about 1⁄4 cup batter for each. Cook in Sauté Pan in 2 batches until golden, with 1 tsp oil per batch. Makes 6—8 pancakes.
Make a double batch and freeze leftovers. Pop 'em in the toaster for a speedy breakfast.