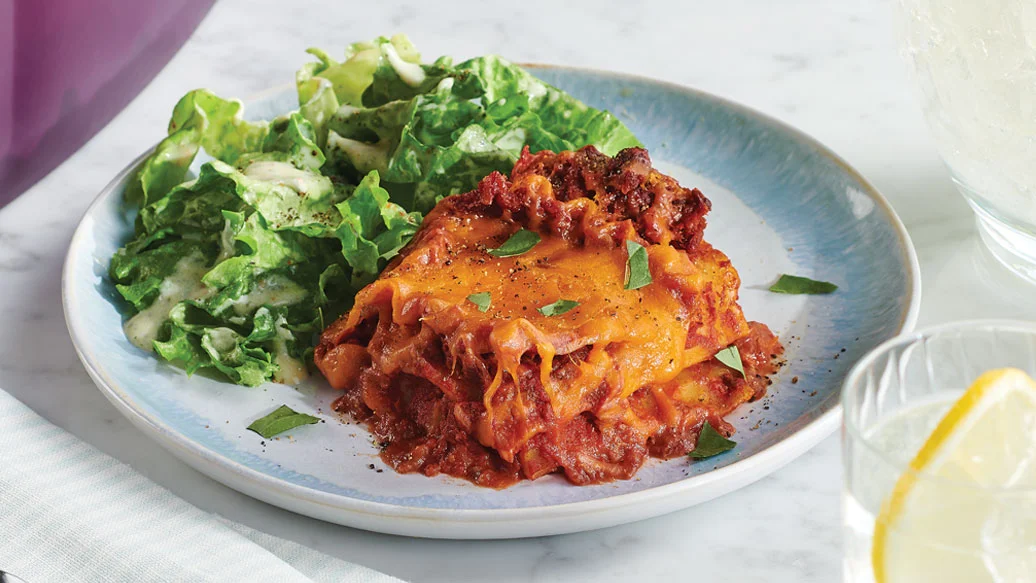 30 minutes
6 servings
$2.35/serving
Revamp your lasagna game with a microwave rethink! Say goodbye to long bake times and hello to speed 'n ease. This recipe delivers the gooey comfort of a cheeseburger, sandwiched between layers of noodles. Pro tip: layer in 3 cups of baby spinach between the sauce and noodle layers—leafy greens are a great source of vitamin C and potassium!
Perfectly Balance Your Plate
Serve with 2 cups leafy greens and a squeeze of lemon juice.
Ingredients
1 can (28 oz/796 ml) unsalted crushed tomatoes
1 lb (450 g) lean ground beef
1 1⁄2 cups grated cheddar cheese, divided
1⁄3 cup water
8 oven-ready lasagna noodles
Preparation
Place tomatoes, beef, 3⁄4 cup cheese, seasoning, and water in a large bowl; mix to combine. Spoon 1⁄2 cup into bottom of Square or Multipurpose Steamer.  
Break noodles in half crosswise. Lay four pieces in steamer; top with 1 cup beefy sauce. Repeat three more times, until noodles and sauce are all used (the top layer should be sauce). 
Cover and microwave on high 18–20 min. Carefully remove steamer, uncover, and sprinkle with remaining 3⁄4 cup cheese. Cover and let rest 3–5 min.  
Use a silicone knife or spatula to cut and serve. Avoid using metal knives in the Steamer. 
Nutritional Information
Per serving: Calories 430, Fat 18 g (Saturated 8 g, Trans 0.5 g), Cholesterol 70 mg, Sodium 410 mg, Carbohydrate 38 g (Fiber 6 g, Sugars 7 g), Protein 29 g.