Caramel Apple Pie Petites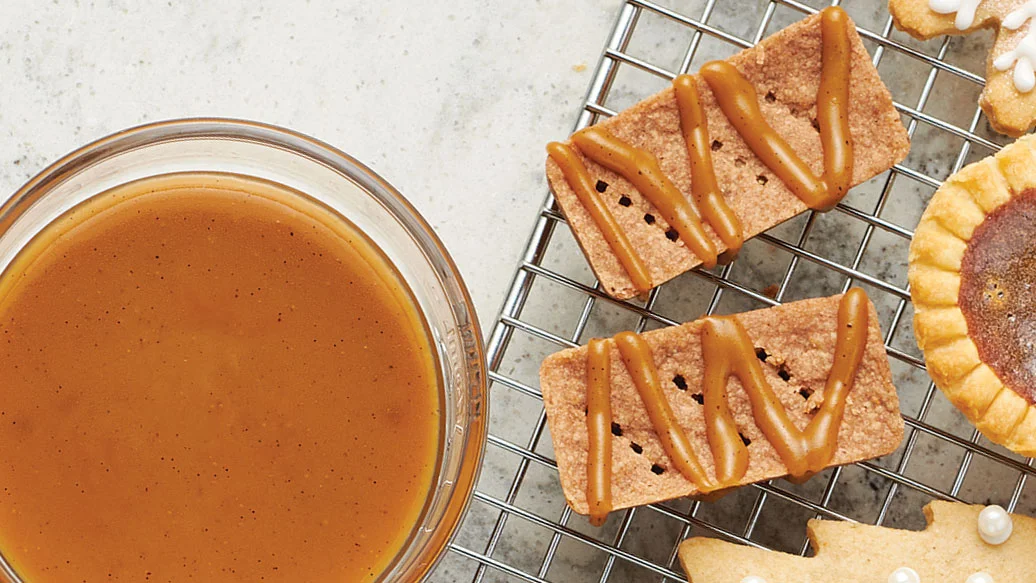 45 min (includes 20 min cooling)
15 servings
$0.41/serving
Get a jump start on your holiday baking – it's never too early! These bite-sized shortbread treats are busting with cozy, warming spices and are extra tasty when you give 'em a caramel sauce drizzle or dunk. 
Ingredients
1⁄2 cup unsalted butter, softened
1 tbsp + 1 tsp water
Preparation
Preheat oven to 375°F. Using Basting Brush, lightly oil Perfect Petites and place on Sheet Pan.
Using a stand mixer (with paddle attachment) or hand mixer, on medium speed, beat mix with butter, water, and spice for 2—3 min or until a soft, uniform dough forms.    
Divide dough between 15 wells in Perfect Petites, about one heaping tbsp per well. Using the back of a tablespoon, press dough evenly into wells. Using a fork or toothpick, dock shortbread (poke holes in it).     
Bake 14—16 min or until edges are golden and start to pull away from the wells. Let cool on pan completely before unmolding.
Nutritional Information
Per serving: Calories 110, Fat 7 g (Saturated 4 g, Trans 0.2 g), Cholesterol 15 mg, Sodium 35 mg, Carbohydrate 11 g (Fiber 1 g, Sugars 3 g), Protein 1 g.
Tips
Before serving, drizzle caramel sauce over petites, or dip them right in the sauce! 
Use 4-in-1 Spice Spoon for an easy, no-mess tool to fill your Perfect Petites.  
Substitute unsalted butter with margarine or vegan butter sticks for a vegan option.