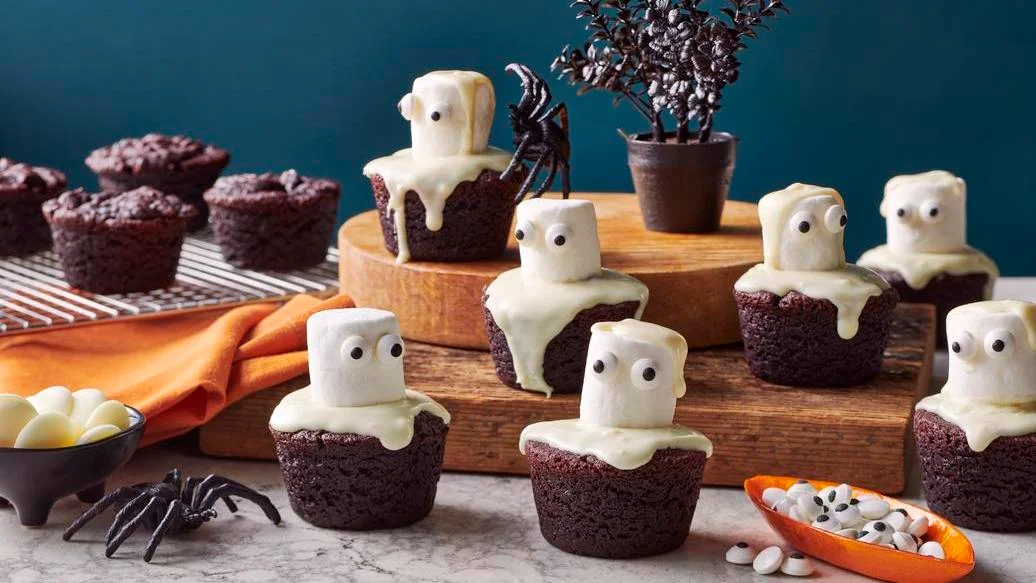 25 min
12 servings
$0.68/serving
This is a fun, cost-effective, and family-friendly baking craft to get your kids ready for Halloween!
Ingredients
1 cup unsweetened soy or nut milk
1⁄3 cup oil + more for brushing
1 tsp apple cider vinegar
12 jumbo marshmallows
1 cup white candy melts
24 mini chocolate chips, about 1 tsp
Preparation
Generously oil two Muffin Makers.   
In a large bowl, whisk mix with milk, 1⁄3 cup oil, and vinegar to create batter.  
Divide batter evenly into pans, filing cavities approximately 2⁄3 full.  
In two batches, microwave on high for 2 min 30 sec. Rest in pan 5 min; invert onto wire rack to cool. Alternatively, bake in preheated 350° F oven for 15–18 min. Cool in pan for 10 min; unmold.  
Meanwhile, in 4-Cup Prep Bowl, microwave candy melts on high for 60–90 sec or until melted, stirring every 30 seconds.
Spoon small dollop of melted chocolate onto each baked cupcake and top with a marshmallow.
Divide remaining melted chocolate onto top of each marshmallow—use a generous amount so it oozes down the sides. Place two chocolate chips on the front of each marshmallow to make eyes.  
Nutritional Information
Per serving (1 cupcake): Calories 240, Fat 12 g (Saturated 3.5 g, Trans 0 g), Cholesterol 5 mg, Sodium 210 mg, Carbohydrate 32 g (Fiber 1 g, Sugars 20 g), Protein 3 g.
Tips
Instead of chocolate chips, use candy eyeballs for an extra spooky ghost! If you can't find them in the baking section of your grocery store, try a craft shop.