Air-Fryer Caesar Roasted Chickpeas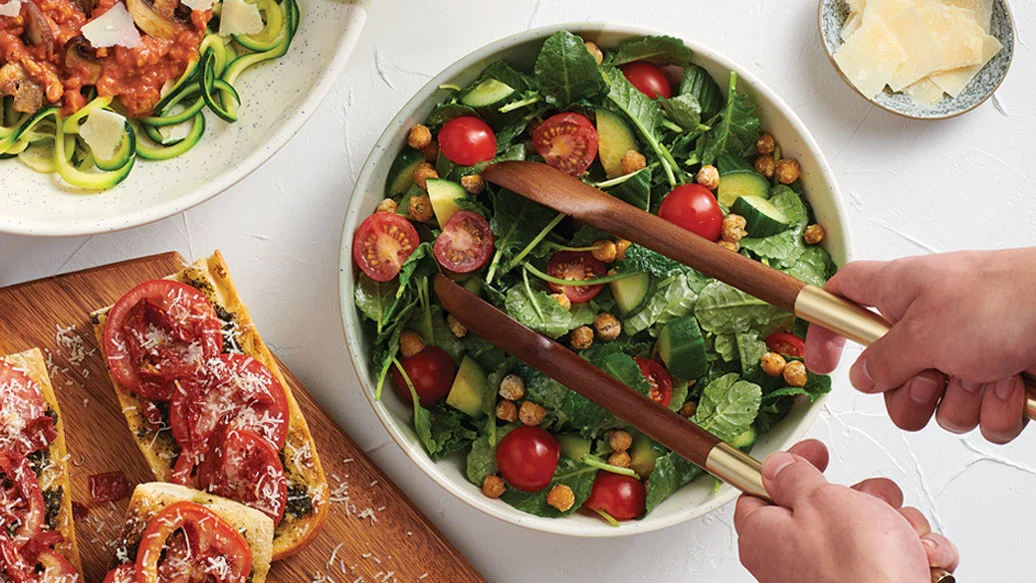 18 min
6 servings
$0.40/serving
Ingredients
1 can (19 oz/540 ml) chickpeas
1 tbsp olive oil
1⁄4 tsp Sea Salt
Preparation
Preheat air fryer to 375° F or oven to 400° F. Drain and rinse chickpeas. Pat dry with a clean kitchen towel. Remove and discard any loose skins that fall off the chickpeas.
If using an air fryer, place chickpeas in 4-Cup Prep Bowl. Add oil, dressing mix and sea salt; stir to combine. Place chickpea mixture in air fryer basket and cook until browned and crispy, 12–14 min, shaking basket halfway through.
Or, if using the oven instead, line Sheet Pan with Sheet Pan Liner. Place chickpeas on pan. Drizzle with oil and salt, and stir to evenly coat as best you can. Roast 30 min or until crispy, stirring halfway through. Sprinkle with dressing mix.
Nutritional Information
Per serving: Calories 130, Fat 3.5 g (Saturated 0.4 g, Trans 0 g), Cholesterol 0 mg, Sodium 370 mg, Carbohydrate 22 g (Fiber 4 g, Sugars 1 g), Protein 5 g.
Tips
Chickpeas will be very crispy when they first come out of the oven. As they cool, they will become deliciously chewy!