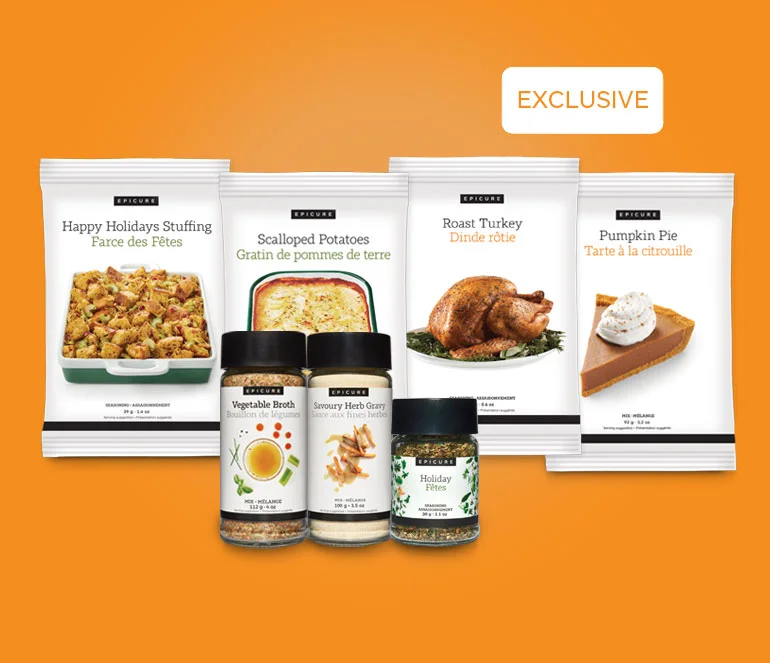 Get ready for Thanksgiving – or an epic Sunday dinner – with EXCLUSIVE products designed for an unforgettable festive feast! 
1 x Happy Holidays Stuffing Seasoning 
Move over junky boxed stuffing, the good stuff's in the bag! Our blend bursts with dried cranberries, celery seed, leek, onion, thyme, and savory. 
1 x Holiday Seasoning  
Our signature festive blend gathers all those herbs and spices we typically use during the holidays. 
1 x Roast Turkey Seasoning  
Whether you're cooking a full Thanksgiving dinner or a smaller bird for the fam, start with this hearty, smoky, subtly sweet, and savoury blend! 
1 x Scalloped Potatoes Seasoning  
Scalloped potatoes are the velvety indulgence where spuds and cream collide. Our gluten free blends makes a luscious, creamy, cheesy onion sauce that we can't get enough of! 
1 x Savoury Herb Gravy Mix  
Good gravy – there's never enough of it! This mix delivers a smooth and velvety sauce that's lump-free. 
1 x Vegetable Broth Mix 
Make a tasty vegetable broth in a matter of seconds! Same garden-fresh flavour as making it from scratch—just add water! 
1 x Pumpkin Pie Seasoning 
A homemade dessert that doesn't require any baking skills and tastes better than that pre-made grocery store stuff. Happy holidays! 
Fall into the holiday features a FREE Digital Meal Plan and Prep Guide. Get yours here.  
Epicure is dedicated to sharing delicious meal solutions that use only real, whole ingredients you can trust, while never ever compromising on taste.
Epicure products are:
100% gluten free
Made in a nut-free facility (except coconut)
Free from corn syrup & hydrogenated fat
Free from artificial colors, sweeteners & preservatives
Sugar & sodium conscious
Made from ethically sourced ingredients
85% non-GMO Project verified
Learn more about our Good Food Mission and the Never-Ever List