Louisiana-Style Sheet Pan Prawns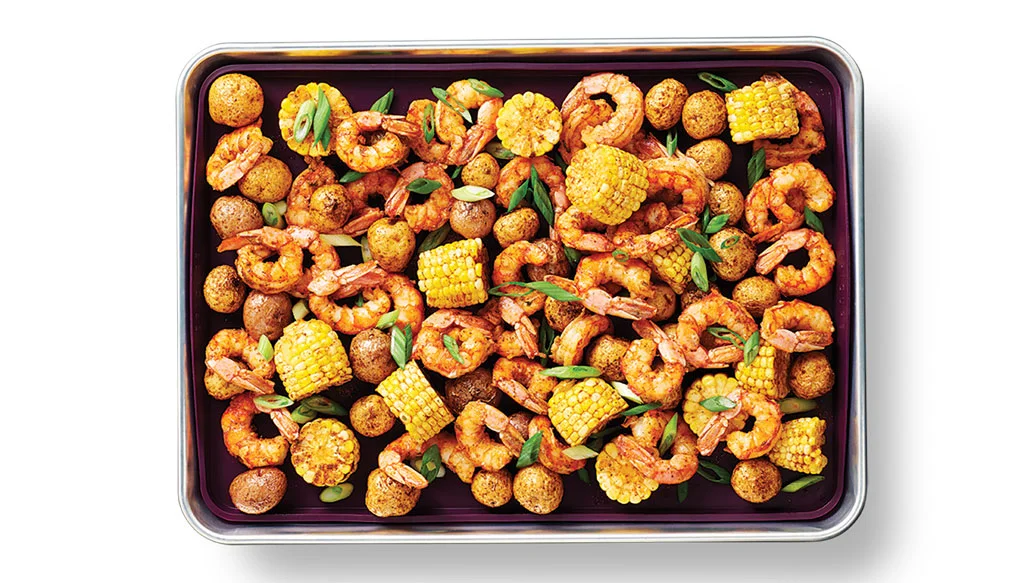 20
4 servings
$4.59/serving
Inspired by the iconic flavours and ingredients of Southern seafood boils, this recipe simplifies the process by cooking everything on a sheet pan in the oven. Savour the dynamic mix of medium-spiced seasoning with succulent prawns, corn, and potatoes. A dish that's fun to eat, and perfect for social gatherings. 
Perfectly Balance Your Plate
Serve with 1 cup sliced veggies and 2 tbsp prepared Epicure Dip, your choice. 
Ingredients
2 cobs of corn, shucked
1 lb (450 g) baby potatoes
1 lemon
3 tbsp oil
1 lb (450 g) raw, peeled prawns or shrimp
Topping (optional): lemon wedges
Preparation
Preheat oven to 425° F. Line Sheet Pan with Sheet Pan Liner.
Cut each cob of corn crosswise into 1⁄2" pieces; place in Multipurpose or Round Steamer.  
Halve or quarter any large baby potatoes; they should all be about the same size. Add to Steamer. Cover and microwave on high 6–7 min or until potatoes are tender.
Meanwhile, slice lemon in half. Using 2-in-1 Citrus Press, squeeze juice into a small bowl. Whisk in oil and seasoning.
Arrange corn, potatoes, and shrimp in a single layer on pan. Pour seasoning mixture over top. Using a spatula, gently toss to combine.
Roast 10 min or until prawns are cooked through. Serve with lemon wedges, if desired.
Nutritional Information
Per serving: Calories 320, Fat 12 g (Saturated 1 g, Trans 0 g), Cholesterol 170 mg, Sodium 220 mg, Carbohydrate 31 g (Fibre 3 g, Sugars 2 g), Protein 22 g.