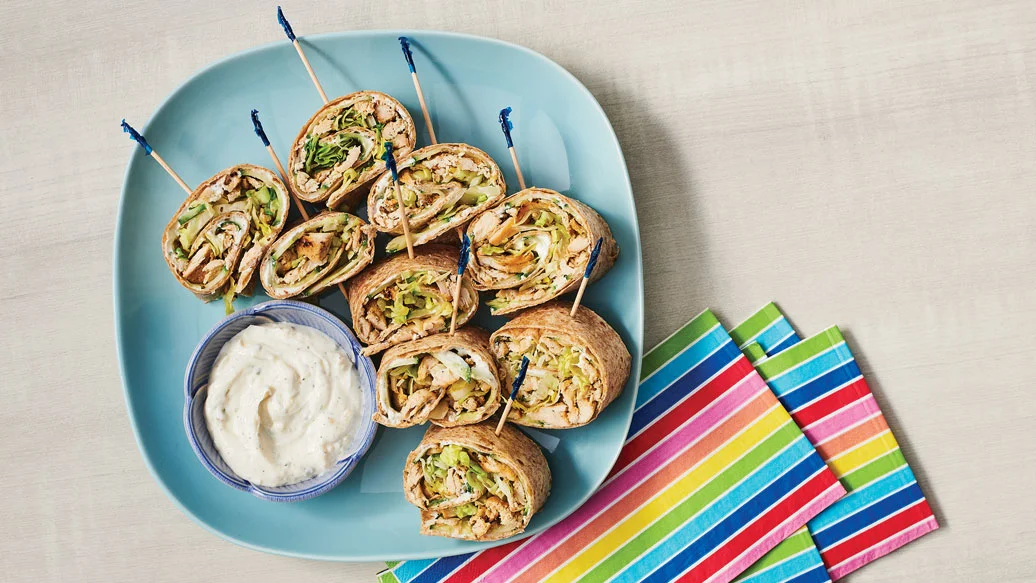 18 minutes
6 servings
$2.66/serving
Get ready to roll! Introducing a finger-licking, protein-packed delight that will have your kids clamoring for seconds. Opt for yogurt, instead of sour cream, for a lower-fat dip that doesn't skimp out on the richness—yogurt and sour cream have the same tang and texture, so you won't notice the difference!
Perfectly Balance Your Plate
Serve with 1⁄2 cup chopped veggies and 1⁄2 cup potato wedges.
Ingredients
1 lb (450 g) boneless, skinless chicken breast
1 tbsp oil
1⁄2 cup light mayonnaise
1⁄2 cup plain 2% Greek yogurt or light sour cream
1⁄2 cucumber
1⁄2 small iceberg lettuce head
3 whole-wheat tortillas
Preparation
Place chicken in Round Steamer with 1 tbsp dip mix and oil; toss to coat. Cover and microwave on high 5–7 min, or until chicken is cooked through. 
Meanwhile, combine remaining 1 1⁄2 tbsp dip mix with mayonnaise and yogurt; set aside. Thinly slice cucumber into rounds and shred lettuce. 
Using two forks, pull cooked chicken into shreds. 
Spread dip over tortillas. Arrange cucumbers and lettuce in a single layer over dip. Top with shredded chicken. Roll up tightly and evenly place 6 toothpicks along each tortilla. Using a sharp knife, slice each roll into 6 pieces, 1–1 1⁄2" thick.
Nutritional Information
Per serving (½ wrap or 3 rolls): Calories 290, Fat 12 g (Saturated 3 g, Trans 0.1 g), Cholesterol 60 mg, Sodium 370 mg, Carbohydrate 21 g (Fibre 4 g, Sugars 4 g), Protein 23 g.
Tips
If making ahead, wrap whole, unsliced rolls in plastic wrap and refrigerate for up to 2 days.