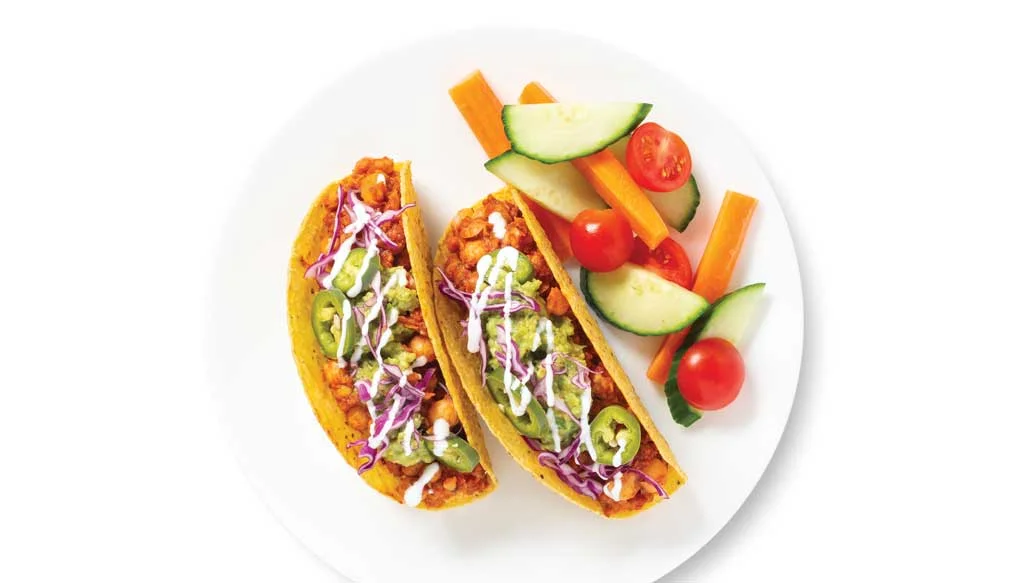 15 min
4 servings
$2.50/serving
Chickpeas are a healthy, protein & fibre packed choice for a taco filling. Let eager kids help you smash the chickpeas with a Ground Meat Separator, everyone can help and have fun in the kitchen!
Perfectly Balance Your Plate
Serve with 1 cup sliced cucumber and celery sticks. 
Ingredients
2 cans (19 oz/540 ml) chickpeas
3⁄4 cup water
1 can (5.5 oz/156 ml) tomato paste
1 avocado
8 crunchy taco shells
1⁄2 cup 2% plain Greek yogurt
Toppings (optional): salsa, sliced onions, shredded cabbage, and jalapenos.
Preparation
Drain and rinse chickpeas. Add to a sauté pan over medium heat with taco seasoning, water, and tomato paste. Stir to combine and cook until fragrant, 3 – 4 min. 
Meanwhile, cut avocado in half; discard pit. Scoop out flesh and slice.
Remove pan from heat. Using Ground Meat Separator, lightly mash chickpeas until some have broken up.
To serve, spoon chickpea filling into taco shells; top with avocado and Greek yogurt. Add additional toppings, if desired.
Nutritional Information
Per serving: Calories 530, Fat 19 g (Saturated 2.5 g, Trans 0 g), Cholesterol 0 mg, Sodium 460 mg, Carbohydrate 77 g (Fiber 18 g, Sugars 10 g), Protein 20 g.
Tips
Swap avocado for Epicure's Guacamole.
Consider cooking chickpeas in microwave using Multipurpose Steamer. Simply combine chickpeas (drained and rinsed), seasoning, water, and tomato paste. Cover; microwave on high 2–3 min until heated through.
Have some chickpea filling leftovers? Try them in a taco salad.