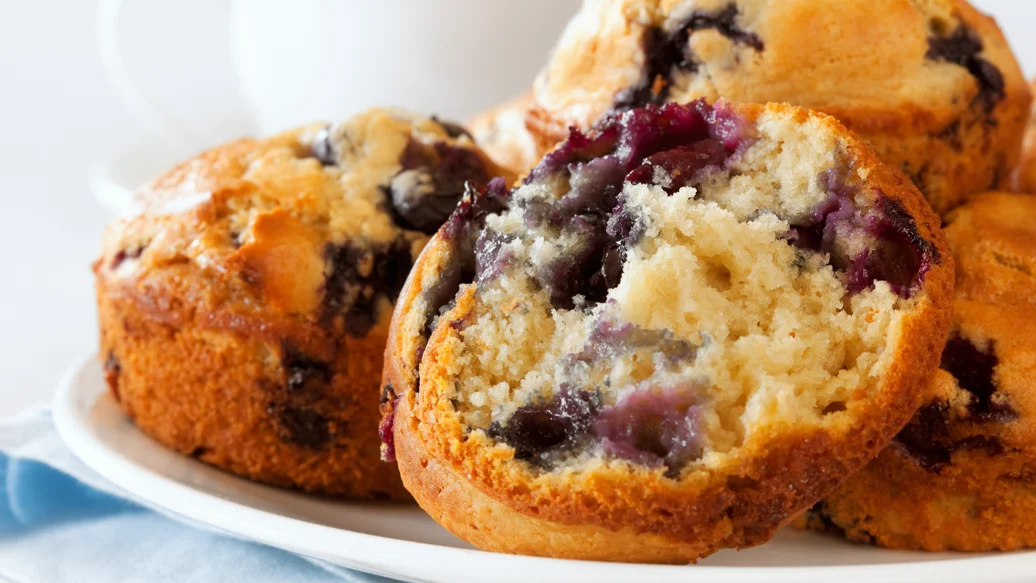 28 min
12 muffins
$0.36/serving
Ingredients
2 cups all-purpose or gluten free flour
1 1⁄2 tsp baking powder
1⁄2 tsp baking soda
1⁄2 tsp salt
zest of one lemon
3⁄4 cup milk
1 tbsp lemon juice, about 1/2 a lemon
1⁄3 cup oil
3⁄4 cup sugar
1 egg, beaten
1 tsp vanilla extract
1⁄2 tsp almond extract
1 cup blueberries
Preparation
Preheat oven to 375° F (190° C).
Lightly spray or brush Muffin Maker with vegetable oil.
Whisk first 5 ingredients and set aside.
Add lemon juice to milk.
In a separate bowl, whisk together oil, sugar, egg, vanilla extract, almond extract and milk.
Toss blueberries in 1 tbsp of dry ingredients.
Using Corner Spatula, stir wet into dry until just moistened. Add blueberries with last few strokes.
Scoop into Muffin Maker. Bake 15–18 minutes.
Nutritional Information
Per serving (1 muffin): Calories 200, Fat 7 g (Saturated 0.5 g, Trans 0 g), Cholesterol 20 mg, Sodium 200 mg, Carbohydrate 31 g (Fiber 1 g, Sugars 15 g), Protein 3 g.