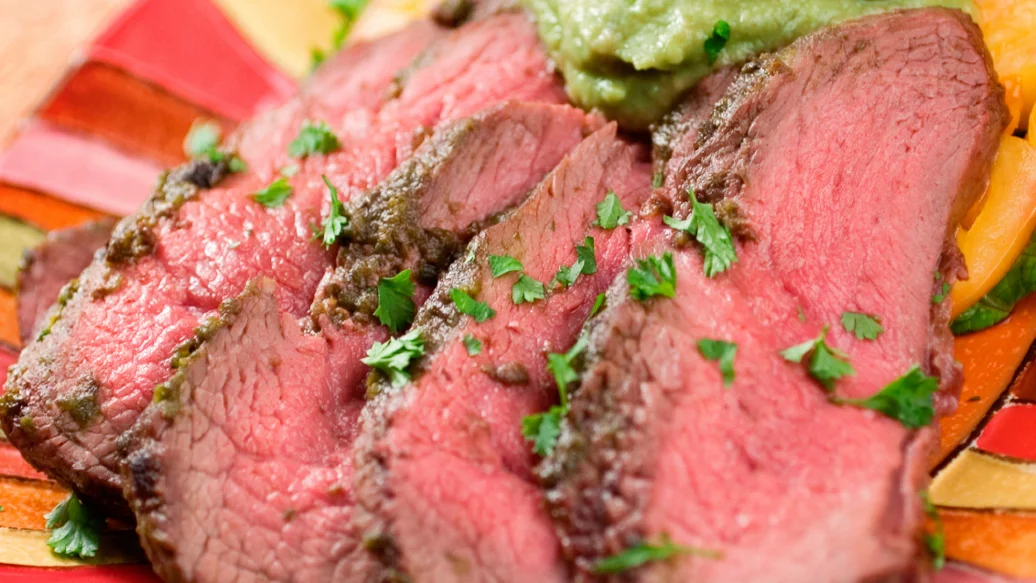 50 min (includes 30 min marinating)
8 servings
$2.69/serving
Life can be tough, but your steak doesn't have to be. Marinating locks in moisture and flavour and tenderizes the meat, so by the time it hits the grill, the work is already done! For lean cuts of beef like this one, it's best to let it marinate for a minimum of 2 hours, but the longer the better to achieve a juicier steak. Lean cuts are a good source of protein, iron, zinc and Vitamin B12. 
Perfectly Balance Your Plate
Serve with 1 cup potatoes and 2 cups leafy greens with a squeeze of lemon juice.
Ingredients
1⁄3 cup olive oil
1⁄4 cup low-sodium soy sauce
2 tbsp lime or lemon juice
2 tbsp light brown sugar, lightly packed
2 lbs (900 g) flank steak
Sea Salt & Black Pepper, to taste
Preparation
In Multipurpose or Round Steamer, whisk olive oil, soy sauce, steak rub, lime juice, and brown sugar. Place steak in Steamer and flip to coat with marinade. Season with salt and pepper, if desired. Cover and marinate for least 30 min, or up to 2 hrs. 
Preheat grill to medium-high.
Remove steak from Steamer and pat dry with paper towel or a clean cloth. Discard marinade.
Grill steak until cooked to your liking, about 6 min per side for medium-rare. Cooking times will vary based on thickness of steak.
Let rest 5 min. Thinly slice against the grain and serve.
Nutritional Information
Per serving: Calories 290, Fat 18 g (Saturated 5 g, Trans 0.3 g), Cholesterol 55 mg, Sodium 470 mg, Carbohydrate 5 g (Fiber 0 g, Sugars 4 g), Protein 26 g.
Tips
No grill? No problem! Place steak on Sheet Pan and broil in oven on high until cooked to your liking, about 6 min per side for medium-rare.