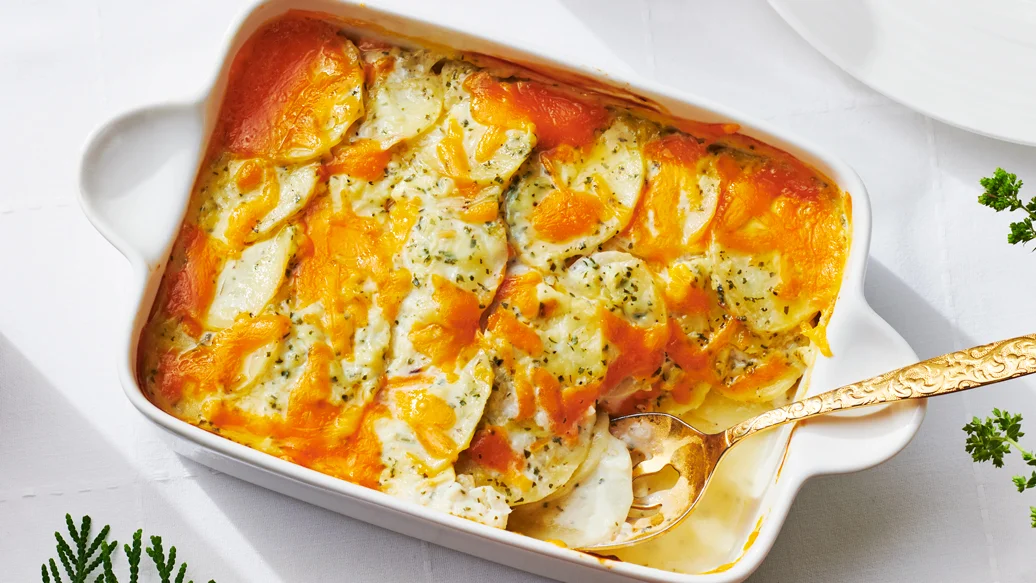 1 hr 40 min
8 servings
$1.03/serving
A creamy potato indulgence that graces our tables around the holiday season. With no addition of flour, this recipe is gluten-free ––the starch from the potatoes helps thicken up the cheesy onion sauce we all know and love.
Ingredients
2 cups milk, your choice
2 lbs (900 g) russet potatoes, about 3 large
Preparation
Preheat oven to 350° F.  
In a large microwaveable bowl, whisk seasoning with milk. Microwave, uncovered, on high for 5 min, whisking halfway through. It should have thickened. Set aside. 
Peel and thinly slice potatoes. Spread 1⁄3 in Multipurpose Steamer or oiled 9" x 9" casserole dish. Pour 1⁄3 of the prepared sauce on top. Continue with two more layers, ending with the remaining sauce on top.  
Bake, covered, 40 min. Uncover and bake 35–40 min or until sauce is bubbling and potatoes are fork tender.  
Nutritional Information
Per serving (about 2/3 cup): Calories 150, Fat 2.5 g (Saturated 1.5 g, Trans 0.1 g), Cholesterol 10 mg, Sodium 210 mg, Carbohydrate 26 g (Fibre 2 g, Sugars 3 g), Protein 5 g.
Tips
For scalloped potatoes au gratin, top with 1 cup grated cheddar cheese before baking. 
To thinly slice potatoes, use 4-in-1 Mandoline fitted with the 1.5 mm slicer blade.