Power Up Almond Butter & Banana Overnight Oats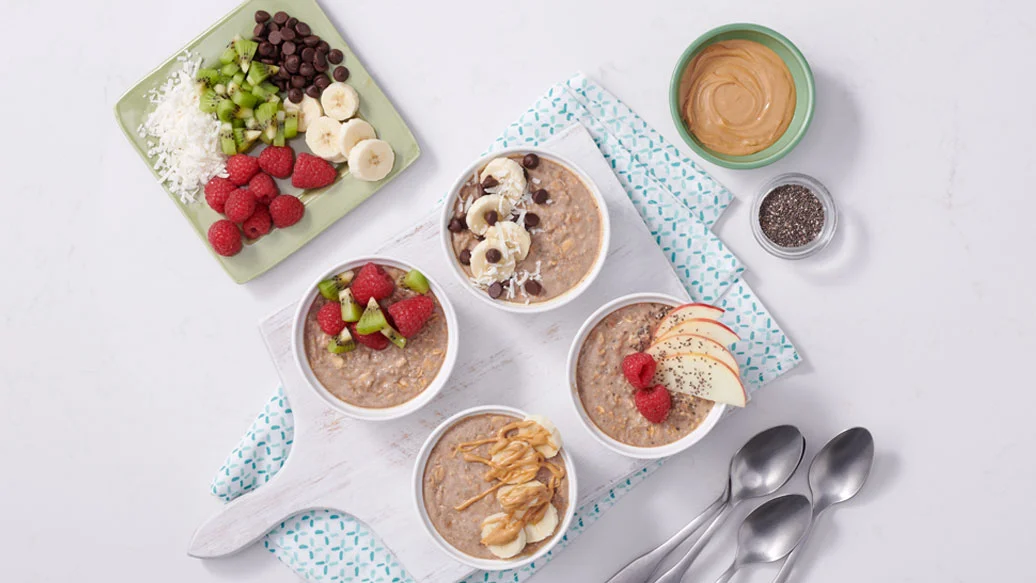 4 hrs 5 min (includes 4 hrs refrigeration)
4 servings
$3.52/serving
Boost your morning with a healthy, balanced breakfast, ready for you when you wake up! Chock full of protein, it will keep you feeling full longer, and help you get through the morning without getting hungry or reaching for sugary snacks. And, your friend—the humble oat—packs some killer superpowers: it can mitigate heart disease and diabetes, boost brain function, help with weight maintenance, and support a healthy digestive system.
Perfectly Balance Your Plate
This is a perfectly balanced plate.
Ingredients
1⁄2 ripe banana
2 cups unsweetened almond milk, or milk of your choice
1 cup gluten-free steel cut oats
1 tbsp chia seeds
1 tbsp maple syrup, optional
2 tbsp almond butter
4 cups berries or apple slices
Toppings (optional): Summer Berry Sweet Dip Mix
Preparation
Mash banana in a large bowl. Add milk, oats, protein blend, spice, chia seeds, and maple syrup, if using; stir to combine. Divide between 4 small bowls or containers (about 3⁄4 cup each); cover and store at least 4 hours or overnight.
Top each with almond butter and sweet dip mix, if desired. Serve immediately alongside berries or apples.
Nutritional Information
Per serving: Calories 390, Fat 12 g (Saturated 1.5 g, Trans 0 g), Cholesterol 0 mg, Sodium 230 mg, Carbohydrate 58 g (Fibre 13 g, Sugars 18 g), Protein 19 g.
Tips
Stir in your favourite fixin's, such as chopped pecans, hemp hearts, almonds, walnuts, coconut flakes, or sliced banana.