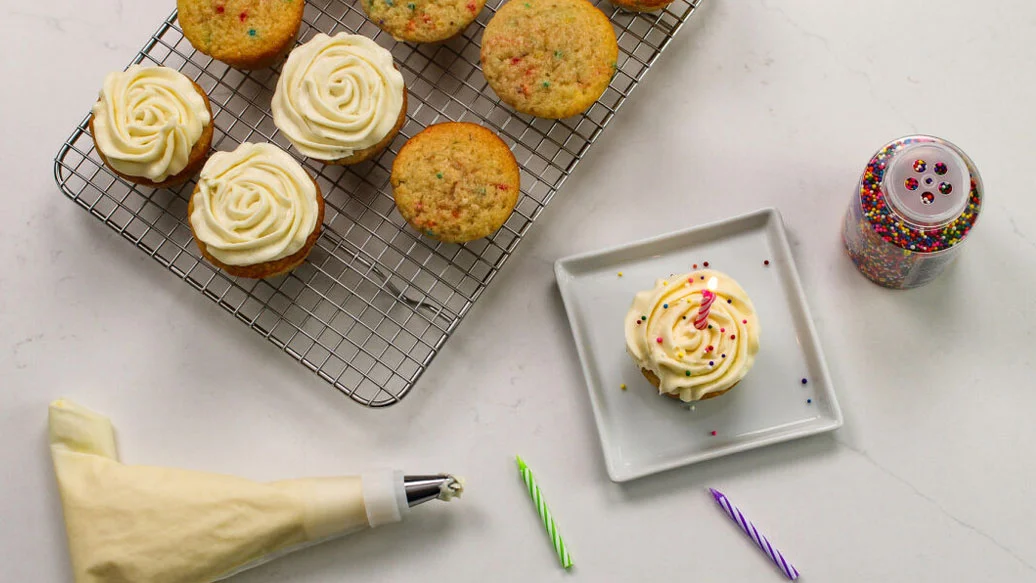 30 min
12 servings
$0.71/serving
You can't spell birthday without cake! Okay, you can, but it wouldn't be the same. Cupcakes bring the whole day together to celebrate the important people in your life. Whether you're celebrating with friends, family, or just treating yourself (because you deserve it!), these cupcakes are your ticket to a joy-filled birthday bash. 
Ingredients
2 eggs
1⁄2 cup milk, your choice
1⁄3 cup oil + more for brushing
2 1⁄4 tsp vanilla extract, divided
1 tbsp rainbow sprinkles, optional
1⁄2 cup light cream cheese, room temperature
2 tbsp unsalted butter
1⁄2 cup powdered sugar
Preparation
Preheat oven to 350° F. Lightly brush Muffin Makers with oil. 
In a large bowl, whisk cake mix with eggs, milk, oil, and 2 tsp vanilla until just combined. If desired, fold in sprinkles (be careful not to overmix; the colours will bleed).  
Divide batter evenly into pans, filling cavities about 2⁄3 full. 
Bake for 15–18 min, or until toothpick comes out clean. Cool in pan 10 min; unmold. 
To make icing, use an electric mixer to beat cream cheese with butter until smooth. Beat in remaining vanilla and icing sugar, one spoonful at a time, until smooth. Allow cupcakes to cool completely before spreading on icing. 
Nutritional Information
Per serving: Calories 220, Fat 11 g (Saturated 3 g, Trans 0.1 g), Cholesterol 40 mg, Sodium 190 mg, Carbohydrate 29 g (Fibre 0 g, Sugars 19 g), Protein 3 g.